Russell IPM is the leading manufacturer of pheromone based insect monitoring and control systems in the UK and one of the largest in Europe. Their core expertise is insect's behaviour modifying systems and natural product based biorational pest management. The company translates science to innovative products to deliver safe, effective and environmentally friendly solutions to the pest issues faced by pest controllers and hygiene officers in food processing and storage facilities.
With a steadfast commitment to research and development Russell IPM maintains a position at the forefront of pheromone based insect monitoring and control technology with a range of specialist systems for use in the agriculture sector, food processing, storage and distribution facilities and other public health fields.
Over the last 24 years the Russell IPM research and development team has focused on developing high potential new products. The aims are to best serve the agriculture sector, stored product industries, home and garden markets our research facilities include a pheromone dispenser formulation laboratory, trap adhesive research unit, a sophisticated wide range of pressure sensitive adhesive coating equipment, technology to incorporate pheromones and attractants in to the adhesive layer, an advanced in house printing facility for custom made products.
Russell IPM has been the commercial partner in DEFRA (UK), KTP (UK) and EU funded projects concerning the development of multi-species attractant and pheromone release control technology. To maintain the highest quality their technical team ensures strict quality control checks on every product before being manufactured.

DELTA KIT

 DELTA LURES


MOTHCATCHER TRAP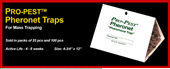 PHERONET KIT

SAFESTORE LASIODERMA DIAMOND TRAPS

STANDARD LURE

WASP AND FLY TRAP

XLURE SPM CHECKPOINT KIT

XLURE SPM CHECKPOINT RECHARGE KIT

XLURE RTU INSPECTOR

XLURE MST FLOOR TRAP


XLURE LURE


XLURE RTU MONITORING SYSTEM

XLURE RTU MONITORING SYSTEM (for walls)