AEGIS RP Lockable Rodent Bait Stations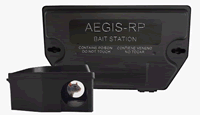 AEGIS-RP Bait Stations are ideal for use where tamper resistant placement of rodenticides is required. It uses the same key as our other Aegis products. Recent AEGIS-RP enhancements include: rounded interior corners where the floors and walls meet, allowing faster and easier cleanout. Also, the lid includes a Spanish precautionary statement. Additional features and benefits include:
Versatile, allows rats or mice to access station to feed on rodenticide.
A design that allows rodents to see their exit before entering, inviting them to enter and feed.
A low profile, permitting flexible mounting in tight locations (vertical or horizontal).
Rotating hinge outlasts break away living hinged bait stations.
An economical choice, control rodent management costs.
Click here to download a copy of the AEGIS RP brochure
---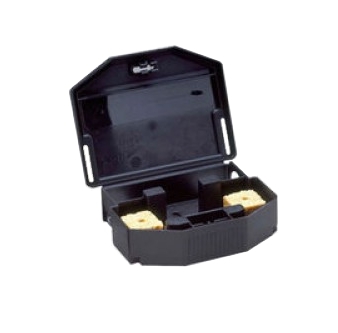 The Aegis Mouse Bait Stations are made to handle a 1 x 1 mini block.

Aegis Mouse Bait Stations provide more rodenticide capacity than any other leading brand. Additionally, unlike other mouse bait stations, Aegis Stations provide convenient placement flexibility for vertical or horizontal mounting. While the design allows for two mini blocks of rodenticide or one regular block of rodenticide to be safely secured inside, the see through tunnel entices mice to enter and feed.
Features include built-in versatility, including vertical or horizontal mounting, anchoring holes for securing the Aegis Mouse Station to floors, walls or pipes, A key for keeping the station locked and secured, easy-open lid that allows for quick replacement of rodenticide bait, and heavy-duty construction for years of dependable service.

Black Lid Dimensions (in millimetres): Length 140mm, Width: 109mm, Height (lid closed): 41mm, Height (lid open): 35mm.
---
AEGIS Station & Snap Trap Combo
A new trapping device with a easy-to-set mechanism. The Aegis Trap is a ready-to-use snap trap contained inside an Aegis lockable bait station.
Easy-to-service from the outside with a cable attached to the snap trap.
Aegis Rat Stations were designed specifically to cater to the feeding habits of rats. Studies conclude that rats prefer to feed in tunnels.
Rats are more likely to enter the tunnels of Aegis Rat Stations, which are made of heavy-duty polypropylene.  
Features include:
Keeps Trap away from children and Pets.
Unique patented double-quartered locking barbs make Aegis tamper resistant.
The clear lid, with transparent panel in cover, makes Trap monitoring easy and efficient.
Technicians quickly see snakes and insects that may be hiding in the station
The universal key opens all Aegis products. No need for special tools or multiple keys.
Rotating hinge, won't crack or break when opened in cold weather.
Use indoors or outdoors to provide a full range of rodent environments (commercial, residential, industrial and agricultural).
---
 Generation Rodenticide Range
Generation Blocks contain 0.025g/Kg Difethialone, the newest single feed anticoagulant, and whole food grade grains. Mice, roof rats and Norway rats are readily attracted to this bait.

As well, the Generation range is manufactured with rodent gnawing edges and a centre hole for securing that prevents rodents from translocating blocks to sensitive areas

Difethialone is a second generation anti-coagulant and because one block can kill up to five rodents, the smaller block size allows for more bait placements.

Generation is a single feed rodenticide with superior palatability that has been developed by Liphatech and is available exclusively in Australia from Garrards. 
Generation Loose Blocks
- 15gm Blocks
- 25% more bait placements drives your dollar further
- Clean-out product for rapid knockdown
- Superior efficacy on rodents
- Highly palatable
- No known genetic resistance
- Packed in 7.5Kg containers
Click here
  to download a copy of the Generation Block
Label
Click here
to download a copy of the Generation Block
Combined MSDS
Click here
to download a copy of the Generation Block
Combined Flyer
---
Maki Blocks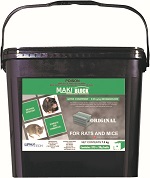 Active Constituent: 0.05g/kg Bromadiolone
Your Everyday Bait for Rats and Mice
Maki® Original contains the single feed bromadiolone, originally developed by Liphatech
Excellent Weatherability
Prolonged mould resistance for long-term efficacy.
Ideal for locations with high ambient humidity.
Yet Extremely Effective
Contains high-grade food cereals for maximum attractiveness & palatability.
Kill rodents in a single-feed.
Multiple edges encourage rodents to feed.
Ideal All-Year Round Maintenance Block
Best used in commercial premises with ongoing rodent baiting programs.
Long field life.
20g extruded block. Use less than other bromadiolone baits.
Easy to Secure in Bait Stations
Blocks with a central hole for ease of securing.
---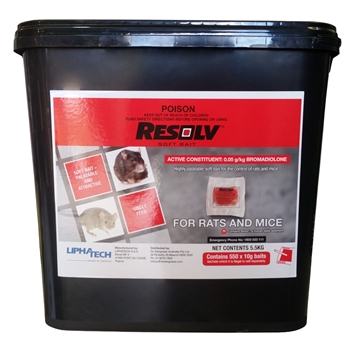 Resolv Soft Bait
Active Constituent: 0.05g/kg Bromadiolone
Highly palatable soft bait for the control of rats and mice.
Resolv gives Professional Pest Managers who have been using bromadiolone-based blocks an innovative and more effective alternative that can only be found in a Liphatech soft bait: wax-free, high palatability, no melting, durability and consistent reliability. Resolv provides superior palatability compared to traditional blocks without wasting money on the waxy filler.
Features
Resolv is easily secured inside a bait station
High number of baits per bucket (550 sachets) allow flexible baiting
Made without nuts and seeds to reduce debris and service time
Maintains palatability and integrity in hot environments.
Convenient 5.5kg rectangular bucket for optimum storage.
---
Liphatech's Professional Products are available from all Garrards branches.  Please contact your nearest Garrards branch for further information.