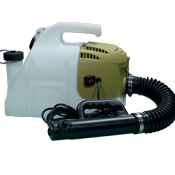 The all new 240v Pioneer Mini ULV Fogger is highly portable with a strong 800W electric motor. It is able to produce 5-50 micron droplets at a flow rate of 0-24L/h, and features a 6L formulation tank.  This means less time filling and more time spraying.
With an empty weight of just 4Kg, the Pioneer Mini ULV Fogger is easy to use, and the flexible hose allows you to reach difficult areas.
Perfect for use in domestic and small commercial situations, the Pioneer Mini ULV is built tough and is the perfect companion to the 12v battery powered Pioneer ULV fogger.

This fogger can be used for: Insecticides, pesticides, disinfectants, deodorants, odour neutralisers and more.