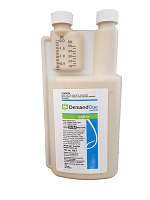 We are very excited to announce the launch of DEMAND DUO insecticide, the latest GP spray to hit the professional pest control market. This unique technology, a ZC formulation, is the first of its kind in Australia and it delivers fast knockdown kill and long lasting residual control. The product is a combination of two powerful actives, thiamethoxam and lambda-cyhalothrin, that together deliver double the power.
"This is the first ZC formulation in Australia, combining a suspension concentrate (SC) and capsule suspension (CS). Together, these two actives deliver powerful knockdown and excellent residual control on a wide range of pests," explained James Hotten, business manager for Syngenta. "This is R&D formulation technology at its best.

"In the US, where the formulation is sold under the brand Tandem, it is used by a number of the country's leading pest control companies who rely on the product day after day to deliver both an immediate and long-lasting solution for their customers.

"We are delighted with the early feedback from a number of local Australian pest managers who have been trialling the product over the last few months. The feedback from both pesties and their customers has been amazing. From cockroaches to bed bugs, both the speed and quantity of kill has stopped everyone in their tracks. It's one thing to read trial results but nothing beats real-life feedback from delighted customers," Mr Hotten added. 

DEMAND DUO controls ants, bed bugs, cockroaches, flies, fleas, paper nest wasps, millipedes, spiders and silverfish. The longevity of DEMAND DUO is due to the unique ZC formulation that stays stable on surfaces; the milling of the SC component combined with the encapsulation makes it effective at maintaining control by ensuring a gradual diffusion over a long period of time.
Mike De Luca, technical manager for Syngenta, added, "Demand Duo will provide pest managers with an advanced solution for controlling pests as an initial treatment on a difficult site or as a regular maintenance treatment.

"We're really happy with the range of pests we have on the registered label and the fact that the product can be used indoors and outdoors. Additionally, Demand Duo has demonstrated in trials its power to provide knockdown and residual control at a convenient water rate of 5 L per 100m2 whether on porous or non-porous surfaces. The unique ZC formulation also ensures low-odour and non-staining treatments."
During trials,(1) German cockroaches were exposed to a treated surface for only 10 minutes then removed and assessed for mortality. DEMAND DUO (40 mL/5 L) showed 100% knockdown at 48 hours versus 86% for Temprid* (50 mL/5 L). At intervals of 30 days, 60 days and 90 days in the lab, new batches of cockroaches were exposed to the rubber mat surface. DEMAND DUO showed ongoing control over a three-month period, giving control between 94% and 100%.
In a similar trial,(2) German cockroaches were exposed for one hour to surfaces (plywood and ceramic tiles) treated by Seclira* (30 g/10 L) and DEMAND DUO (40 mL/5 L) then removed and assessed for mortality. DEMAND DUO showed 100% control at 30 mins on the non-porous (ceramic tile) surface versus 83% for Seclira*, as well as 100% control at 60 mins for the porous (plywood) surface versus 58% for Seclira*.
"This clearly confirmed the fast knockdown properties of Demand Duo and demonstrated that the ZC formulation will perform on a range of surfaces where other products may struggle," commented Mr De Luca.
Packaged in a convenient, easy to handle chamber pack, DEMAND DUO is available from distributors from late April 2020.
DEMAND DUO - hits hard and goes the distance. 
*Temprid® is a Registered Trademark of the Bayer Group
*Seclira® is a Registered Trademark of BASF
References:
1. Trial conducted at Vero Beach Research Center, USA, 2016. (USVL0I0242011).
2. Trial conducted at Cikampek Research Station, Indonesia, 2018. (PPMG18301).