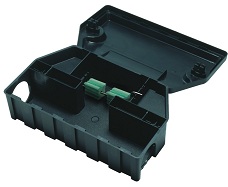 The Aegis-RP station that is saving you time and money is now even more improved.  If you were already using Aegis-RP then you will know of the advantages such as, quick-to-service locking system, convenient opening (lid opens away from the wall), see the exit before entry (SeBe) making it more enticing for rodents, Strong mechanical hinge securing the lid, flexible (allows for vertical mounting for tight or water prone areas, versatile (accommodates bait, glue boards or traps), rounded interior (makes it easier to clean), easy knock-out holes for different securing options, vertical or horizontal bait rods and many more.
The new high-performing, tamper-resistant bait station just got better with the following improvements.
---
New SecureV Technology - Reduces the ability of rodents to free the bait, also compatible with snap traps.
---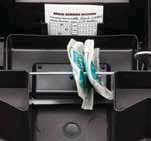 Elevated Horizontal Rods - Prevents bait from touching the bottom of the station, keeping bait drier and fresher.
---
Recycled Material - the station is made from recycled materials.
---
Additional Holes - for more versatile securing options, great for zip ties or U-bolts.
---
Improved Drainage - enlarged holes to keep bait drier.
---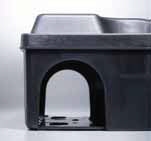 SeBe - Train style entrace allowing more direct access for rodents.
---
Improved Opening - Ramped opening makes runway cleaning easier and faster while impeding water from entering the station.