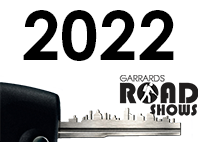 Garrards have a huge instalment of industry pest talks, promotions, giveaways, prizes and more for the return of the Garrards Roadshows for 2022 throughout Australia.

ARBOVIRUSES – including Japanese Encephalitis – how, what, when, where - what Pest Managers need to know and do.
Termidor – 20 years of confidence – what have we learned? And a new product.
Are pyrethroids repellent to all insects?
The termite colony under attack – how the baits work.
Avoiding customer complaints from spray application.
New products to showcase!
Dry flowable cockroach bait.
New rodenticide active on the block.
New formulation of a 30-year-old proven product.
Putting pigeons on the pill and more.
 Legislation updates: Harmonisation of legislation around Australia – how will it affect you in your state?
Click on any of the links below to see more details and RSVP to your local Roadshow.
Garrards Roadshows 2022 - Garrards
Sunshine Coast: Monday 9th May 2022 (7:30am Start)
North Brisbane: Tuesday 10th May 2022 (7:30am Start)
Ballina: Wednesday 11th May 2022 (8:00am Start)
Gold Coast: Thursday 12th May 2022 (7:30am Start)
South Brisbane: Friday 13th May 2022 (7:30am Start)
Future Shows:
New South Wales (Wollongong, Parramatta, Newcastle, Tamworth, Dubbo) - Starts 23rd May
North Queensland (Cairns, Townsville, Mackay, Rockhampton) - Starts 20 June
Victoria (Albury, Bendigo, Taylors Lakes, Dandenong) - Starts 12 July
NT, WA and SA (Darwin, Perth, Adelaide)- Starts 26 July
Western Queensland (Bundaberg, Toowoomba, Roma) - Starts 30 August
For all enquiries please email This email address is being protected from spambots. You need JavaScript enabled to view it.