Listings of Businesses For Sale or Franchise Opportunities. To arrange a listing, please send an E-mail to Craig at Craig @ garrards.com.au (without the spaces between the @)
This service is free of charge to Garrards customers - charges may apply to those who do not deal with Garrards.  Please E-mail your required text either typed directly into the E-mail body, or in a Word or Text document.  Please include any logos or pictures you may wish to accompany your ad.
Please note that Adobe Acrobat files are very difficult to work with and as such are not preferred.
---
 PEST/TERMITE CONTROL BUSINESS FOR SALE - BRISBANE AREA
Listed 25/07/2017
We are selling our very successful Pest Control/Termite business, we are now retiring early!!!!

This business has been running for 6 years, 1 man owner operated, working only 4 days per week!
We do not advertise, all work is either repeat business or word of mouth!!!

This is an amazing opportunity for someone to just take over and run with or for giving your current Pest Control/Termite business a great step up.
This homebased business is situated North of Brisbane and services Domestic & Commercial customers for Pest Control, Termite Inspections/Barrier Installations, Wildlife Trapping and Feral Animal Control.
Business Sale comes with:
● Extensive established customer base.
● Website Presence.
● 200 litre equipped self-contained spray unit (mobile) ●injection wand ●2 x separate portable spray units ●Rega spray unit ●stainless steel watertight compartment tray for chemicals ●spill kit ●Flir thermal imaging camera ● moisture meter ●plus even more.
● Detailed MYOB Customer list including repeat works and full details.
● Mobile number for business.

Showing strong net profit for working owners, financials available to qualified buyers.
Approximate income: $80,000-$125,000 per annum working 4 days/week!
Asking price $60,000 Negotiable
Please contact Adam 0404 777 150
---
PEST CONTROL BUSINESS FOR SALE - KELLYVILLE, NSW
Listed 30/06/2017
Own a Franchise Pest control business for only $11, 950 + GST including all equipment, training, great back up & support!!
Existing Express Pest Control Franchise is located at Kellyville, NSW. Territory can be changed to a different location depending on availability.
Also included is new IPad mini and $400 worth of credit with Hipages.
 
Price includes:
• All required training
• All required equipment
• We teach you how to run a successful business, using people who have been there and done it themselves.
• We provide you with all of the marketing materials that you require (business cards, brochures, magnets, etc.)
Vehicle is also available for sale at $14,500.
For more information call 0423 554 470 today!
---
Pest Control Business for sale - Sunshine Coast Area
Listed 20/06/2017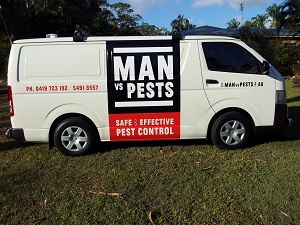 Life style business, no weekends/early mornings.  Established 20 years - Caloundra- Maroochydore. Private homes, body corporate.  Suit add on/start up.  Business fully systemised – Customer mailing list, history.  Computer reminder system in place – 75% of T/O is repeat business.  Includes all equipment necessary to carry out termite inspections/treatments & general pest management.
Yellow pages advertising in place online/in print + local search, website, strong branding.
Toyota Hiace LWB 2013 immaculate condition, 30,000K's,Rhino roof racks, tow Bar, whirlybird roof vent, alloy nudge bar, cargo barrier, rubber mat, fully sign written.  Spray rig 200L/100L tanks, twin hose reels 100m/50m.  Fully equipped to carry out general pest and termite work.
Description:   Owner operator/part time providing pest/termite management including   ongoing termite monitoring and baiting.
  Equipment included: Termatrac, FLIR thermal imaging camera,    moisture meter, Rega sprayers, Rega Blueline battery operated    sprayer on trolley.
  All equipment in excellent condition.
  Fully equipped vehicle fitted out to meet Qld Health Dept regulations.
Location: Caloundra – Maroochydore – Private homes/Body Corporate
Expressions of interest by email to:
This email address is being protected from spambots. You need JavaScript enabled to view it.
---
PEST CONTROL BUSINESS FOR SALE - SUNSHINE COAST AREA
Listed 31/05/2017

After 20 years in the industry , it's time to retire and I am offering the sale my business which has been established for 10 years.
Covering all aspects of pest control including Termites and Pre- construction work, I have an established, regular customer list (both residential and some commercial ) as well as Real Estate and Body Corporate work.
Accountant's figures can be made available to genuine enquirers.
All equipment is in good working order including 6 month old pump and motor for termite work.
I would prefer to keep current ute as it has a separate lift out tray will slide onto any1800 x 1800 (or bigger) tray. This is currently mounted on a 4x4 dual cab.
If required, just the customer list can be bought and the equipment will then be sold separately.
Call Tony on 0413125270



---
FOR SALE. Small Pest Control Business - Gold Coast and Surrounding NSW Area
Listed 02/05/2017
covering Gold Coast and surrounds including NSW. Owner retiring.
Established 1994, never advertised,all customers word of mouth. Some Exterra, some commercial, mostly domestic.
All offers considered, Call Max on 0412624379 for any details.
---
New Franchise Opportunities Available

Listed 12/04/2017

Are you Ready to own a business that will give you the freedom to work your own hours and enable you to realise your true earning potential?

Key benefits of joining our team

• Powerful Brand and professional image
• Work availability guarantee
• Work where you want
• Work when you want
• Unrestricted growth potential
• Fixed low monthly fees
• Training and support
• Lead Generation
• Advanced technology and systems
• Centralised administration and business support
• Cutting Edge Marketing
• Supportive franchisee network
• National buying power

Credibility & Care
The Jim's Group are widely known for offering a quality service, and for being professionals who are trustworthy, honest and doing a fantastic job. This is very important to our customers who want the best service and care available. We are also looked to as an expert source of information and advice. Naturally, this respect and credibility means that a Jim's Pest Control franchise owner is placed many cuts above the rest by the public, and can therefore charge rates which would never be available to an independent pest control operator.

If you are ready to take the next step then contact Jim's Pest Control and request a non-obligation Franchise Information Package, which will provide you with detailed information and an application form. Packages for already qualified technicians start from $14,412.05 Inc. GST.

CONTACT JIMS ON 131546
---
Domestic Pest Management Business For Sale - Sunshine Coast Area
Listed 22/02/2017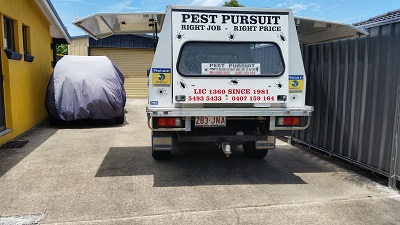 Retiring after 36 years.Ideal for operator to continue sevicing a number of villages here on the coast.Needs a reliable operator to continue servicing senior clients which have been with me for many years.No Termite or inspections. .2006 Mazda 4x4,138ks designed canopy for easy work conditions plus equipment.
$55,000 or $40,000 without vehicle
Rick 0407159164
---
PEST CONTROL BUSINESS for sale – Sydney Area
Listed 06/02/2017
Take over with steady clients straight away.
Well established pest control business located in Sydney. Large varied client base 40% Domestic, 40% Commercial, 20% Termites.
Solid growth with loyal client base, business would benefit substantially with active marketing.
We have a sound reputation with repeat work from Body Corporations, Real Estate Agencies, Restaurants, Etc. and a large Data Base of regular clientele.
This business would perfectly suit a couple and it is entirely up to individual needs and your expectations as to the growth of the business.
Our customers are loyal, and if you continue with the same work ethics it can only expand as we have by word of mouth in the community.
Sale includes fully equipment vehicle, and client database with years of history at your fingertips.
Price on Application.
Genuine inquiries please call 02 9428 1148 or email:
This email address is being protected from spambots. You need JavaScript enabled to view it.
---
PEST CONTROL BUSINESS for sale - South Coast of NSW
Listed 18/11/2016
Well established business operating on the south coast of NSW for approximately 20 years. Very good existing client data base. Owner retiring, perfect opportunity to be self employed or expand your existing business. Price includes vehicle and all relevant equipment to continue to operate. Turnover round $160K + p/a. withexcellent potential to increase & expand company.
Asking price $60,000.00 inc GST
Genuine inquiries please call 0419 437 646 or email:
This email address is being protected from spambots. You need JavaScript enabled to view it.
---
Pest Control Business for sale - Cairns Region
Listed 1/11/2016
 
* Well respected pest control business established for over 20 years
* General pests and termite work
* Covering Cairns to Innisfail
* Owner is retiring
* Excellent opportunity for expansion
* $40,000 not including vehicle and equipment
 
Phone Mark 0407 187 405
---
PEST CONTROL BUSINESS FOR SALE DARLING DOWNS, WEST OF TOOWOOMBA
Listed 01/09/2016
• Established 15 years
• Private 50% Commercial 50%
• Consistent Turnover for the last 5 years
• Huge potential for growth
• Large Database of customers - on going - repeat business o Qld Police
o McDonalds , Food works o Gas Sector
o Power Stations o Councils
o Schools,
o Truck stops, Hotels
o Cotton Gins, Warehouses
Contact Jason
0412 340 644
---
 "We are looking to buy" a business in MACKAY QLD.
Listed 22/08/2016
The business we are interested in would be an existing business with over 3 year trading history and data base, ideally with at least 2 full time technicians.
Any Single operator business's willing to sell and or stay on as an employ to be apart of a larger team, will be considered. 
Please email:
This email address is being protected from spambots. You need JavaScript enabled to view it.
---
Business Opportunity - WA
Listed 27/06/2016
"Private company specialising in specific types pest management in WA is looking for business opportunities to enhance service capability.  The business is licensed WA wide with in excess of 2000 customers with excellent returns.  We are currently looking at opportunities to enhance/grow the business.  Such opportunities we believe can be in partnership, franchise or simply selling, no ideas or opportunities will be ruled in or out.
Interested parties should email
This email address is being protected from spambots. You need JavaScript enabled to view it.
in the first instance."
---
PEST CONTROL BUSINESS FOR SALE - CANBERRA ACT (GOOD WILL ONLY)
Listed 27/06/2016
Established – 15 years (owner retiring)
This business would suit someone wanting to start their own business or wanting to expand their current business
• Regular client base with repeat customers.
• Reputable Business name and phone number included.
• Information available to genuine enquiry.
PHONE:- Terry. 0429 126 454
---
FOR SALE - Pest Control Service - NSW Area
Listed 26/05/2016
Est. 20 years. Long standing clients.
T/O 100K. 3-4 days p/wk.
Sell $75,000
Equip. & ongoing assist. incl.
It's Time To Be The Boss.
Ph: 0408 216 324.
---