Listings of Businesses For Sale or Franchise Opportunities. To arrange a listing, please send an E-mail to Craig at Craig @ garrards.com.au (without the spaces between the @)
This service is free of charge to Garrards customers - charges may apply to those who do not deal with Garrards.  Please E-mail your required text either typed directly into the E-mail body, or in a Word or Text document.  Please include any logos or pictures you may wish to accompany your ad.
Please note that Adobe Acrobat files are very difficult to work with and as such are not preferred.
---
Business for Sale - One Man Operation - Brisbane Area
Listed 16/11/2017
Established for 15 years - Retiring
Good repeat Client base
Going out on your own?  Suite couple or addition to existing business
Location:- South Western Brisbane Suburbs
Business:-  Timber Pest & Domestic Treatments
Sale includes:-  All records, office & computer equipment/programs, advertising/domain/business name, listed pest management/trade equipment including tanks, pumps, hand sprayer, spares/stock etc
Two months handover assistance, if required 
No Vehicle
Turnover $120,000 pa last 3 years
(Tax/Acc available on signing nondisclosure statement)
SALE PRICE $ 85,000.00
Initial Contact :- 
This email address is being protected from spambots. You need JavaScript enabled to view it.
---
Pest Business for Sale - Emerald QLD Area
Listed 1/11/2017
Long Established (2002), Regional leader in Professional Pest Management including Termite management. Based in the center of Central Queensland's growing Bowen and Galilee Basins.
Commercial, Industrial, Residential Clients.
Consistent $1.2mil+ T/O Annually with consistent high profits.
Accountant figures for available upon signing of confidentially agreement.
Modern fully equipped and upgraded 6 vehicle fleet >2years old
Fully equipped office including upgraded computer systems with dual screens (2017), phone system, photo copier, in house backup systems.
*Option (freehold office fully networked) $175K neg.
Complete Inventory available upon receipt of signed deed of confidentially.
Supplier to the growing coal mining , industrial sectors including 20,000+ Accomodation rooms, BHP, Sodexo, Peabody, Glencore, Arrow Energy, Dept. Building & Asset Services, Local councils, Real Estates, body corporate and private residential.
Central Queensland is a high growth, strong agricultural region with new infrastructure being developed including CQ Inland port (Potential for Fumigation), Adani Carmichael Mine and many new projects for the emerging Galilee Basin.
New owner should have a priority for safety and a good understanding of Industrial high risk operations and procedures. This is not a business where you wait for the phone to ring.
The opportunity for growth is boundless!
Genuine Inquiries only.
This email address is being protected from spambots. You need JavaScript enabled to view it.
or phone Monty 0407 101 560
---
Pest control business partner wanted in Melbourne - VIC Area
Listed 06/09/2017
- if your annual turnover is less than $300K
-if you want to grow your pest control business
-if you have mature mindsets
If you meet the above criteria and are looking for a business partner, we would like to speak to you.
Text me(Edward) at 0402-130-131 and we can have a chat.
---
MOBILE PEST CONTROL – BUSINESS FOR SALE - WA Area
Listed 30/08/2017
Kalgoorlie Western Australia
Plant, Equipment and Good Will!!
Expressions of Interest starting from $120,000.00 to be received by 30/09/2017 with Settlement by 30/11/2017.
Long standing customer base established over 25 years in business, including ongoing regular commercial clientele.
Contact:
This email address is being protected from spambots. You need JavaScript enabled to view it.
---
FOR SALE Pest Control business in the Clarence Valley, Grafton  NSW
Listed 03/08/2017
 
Retirement and health forces this sale.
Well established  with good clientele and repeat work.
Urban and commercial customers on regular basis.
Business has been operating for 26 yrs
Comes with 2007 Toyota Hilux SR V6 ute with cupboards, 2 tanks, reel and Honda pump all
on a removable tray. Mileage on ute is 367k
 
For further information please contact Graham or Jeanette on 0427655969 or 0266441020
 
Asking     $95.000.00
---
---
PEST CONTROL BUSINESS FOR SALE - KELLYVILLE, NSW
Listed 30/06/2017
Own a Franchise Pest control business for only $11, 950 + GST including all equipment, training, great back up & support!!
Existing Express Pest Control Franchise is located at Kellyville, NSW. Territory can be changed to a different location depending on availability.
Also included is new IPad mini and $400 worth of credit with Hipages.
 
Price includes:
• All required training
• All required equipment
• We teach you how to run a successful business, using people who have been there and done it themselves.
• We provide you with all of the marketing materials that you require (business cards, brochures, magnets, etc.)
Vehicle is also available for sale at $14,500.
For more information call 0423 554 470 today!
---
PEST CONTROL BUSINESS FOR SALE - SUNSHINE COAST AREA
Listed 31/05/2017

After 20 years in the industry , it's time to retire and I am offering the sale my business which has been established for 10 years.
Covering all aspects of pest control including Termites and Pre- construction work, I have an established, regular customer list (both residential and some commercial ) as well as Real Estate and Body Corporate work.
Accountant's figures can be made available to genuine enquirers.
All equipment is in good working order including 6 month old pump and motor for termite work.
I would prefer to keep current ute as it has a separate lift out tray will slide onto any1800 x 1800 (or bigger) tray. This is currently mounted on a 4x4 dual cab.
If required, just the customer list can be bought and the equipment will then be sold separately.
Call Tony on 0413125270



---
FOR SALE. Small Pest Control Business - Gold Coast and Surrounding NSW Area
Listed 02/05/2017
covering Gold Coast and surrounds including NSW. Owner retiring.
Established 1994, never advertised,all customers word of mouth. Some Exterra, some commercial, mostly domestic.
All offers considered, Call Max on 0412624379 for any details.
---
Domestic Pest Management Business For Sale - Sunshine Coast Area
Listed 22/02/2017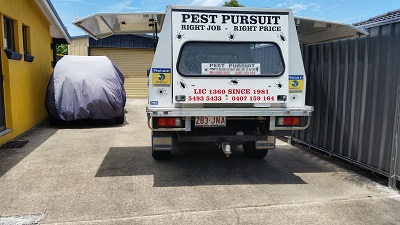 Retiring after 36 years.Ideal for operator to continue sevicing a number of villages here on the coast.Needs a reliable operator to continue servicing senior clients which have been with me for many years.No Termite or inspections. .2006 Mazda 4x4,138ks designed canopy for easy work conditions plus equipment.
$55,000 or $40,000 without vehicle
Rick 0407159164
---
PEST CONTROL BUSINESS for sale – Sydney Area
Listed 06/02/2017
Take over with steady clients straight away.
Well established pest control business located in Sydney. Large varied client base 40% Domestic, 40% Commercial, 20% Termites.
Solid growth with loyal client base, business would benefit substantially with active marketing.
We have a sound reputation with repeat work from Body Corporations, Real Estate Agencies, Restaurants, Etc. and a large Data Base of regular clientele.
This business would perfectly suit a couple and it is entirely up to individual needs and your expectations as to the growth of the business.
Our customers are loyal, and if you continue with the same work ethics it can only expand as we have by word of mouth in the community.
Sale includes fully equipment vehicle, and client database with years of history at your fingertips.
Price on Application.
Genuine inquiries please call 02 9428 1148 or email:
This email address is being protected from spambots. You need JavaScript enabled to view it.
---
PEST CONTROL BUSINESS for sale - South Coast of NSW
Listed 18/11/2016
Well established business operating on the south coast of NSW for approximately 20 years. Very good existing client data base. Owner retiring, perfect opportunity to be self employed or expand your existing business. Price includes vehicle and all relevant equipment to continue to operate. Turnover round $160K + p/a. withexcellent potential to increase & expand company.
Asking price $60,000.00 inc GST
Genuine inquiries please call 0419 437 646 or email:
This email address is being protected from spambots. You need JavaScript enabled to view it.
---
Pest Control Business for sale - Cairns Region
Listed 1/11/2016
 
* Well respected pest control business established for over 20 years
* General pests and termite work
* Covering Cairns to Innisfail
* Owner is retiring
* Excellent opportunity for expansion
* $40,000 not including vehicle and equipment
 
Phone Mark 0407 187 405
---
 "We are looking to buy" a business in MACKAY QLD.
Listed 22/08/2016
The business we are interested in would be an existing business with over 3 year trading history and data base, ideally with at least 2 full time technicians.
Any Single operator business's willing to sell and or stay on as an employ to be apart of a larger team, will be considered. 
Please email:
This email address is being protected from spambots. You need JavaScript enabled to view it.
---
Business Opportunity - WA
Listed 27/06/2016
"Private company specialising in specific types pest management in WA is looking for business opportunities to enhance service capability.  The business is licensed WA wide with in excess of 2000 customers with excellent returns.  We are currently looking at opportunities to enhance/grow the business.  Such opportunities we believe can be in partnership, franchise or simply selling, no ideas or opportunities will be ruled in or out.
Interested parties should email
This email address is being protected from spambots. You need JavaScript enabled to view it.
in the first instance."
---
PEST CONTROL BUSINESS FOR SALE - CANBERRA ACT (GOOD WILL ONLY)
Listed 27/06/2016
Established – 15 years (owner retiring)
This business would suit someone wanting to start their own business or wanting to expand their current business
• Regular client base with repeat customers.
• Reputable Business name and phone number included.
• Information available to genuine enquiry.
PHONE:- Terry. 0429 126 454
---
FOR SALE - Pest Control Service - NSW Area
Listed 26/05/2016
Est. 20 years. Long standing clients.
T/O 100K. 3-4 days p/wk.
Sell $75,000
Equip. & ongoing assist. incl.
It's Time To Be The Boss.
Ph: 0408 216 324.
---