Listing to advertise your equipment for sale. To arrange a listing, please send an E-mail to Craig at "craig @ garrards.com.au" (without the spaces)
This service is free of charge to Garrards customers - charges may apply to those who do not deal with Garrards.  Please E-mail your required text either typed directly into the E-mail body, or in a Word or Text document.  Please include any logos or pictures you may wish to accompany your ad.
Please note that Adobe Acrobat files are very difficult to work with and as such are not preferred.
---
Mitsubishi Triton MQGLX 4 x 2 Petrol SC-CC for sale - $17,999 ono - Gold Coast Area
Listed 4/1/2018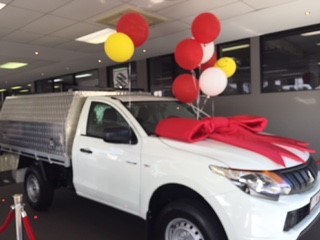 2016 model – 60000 km  - Manual
The truck is in excellent condition with a metal canopy at the back. 
Full service history available. 
Note: photo is when it was purchased.
Contact 0414 238 299
---
Pest ute with equipment for sale - Toowoomba QLD area
Listed 15/12/2017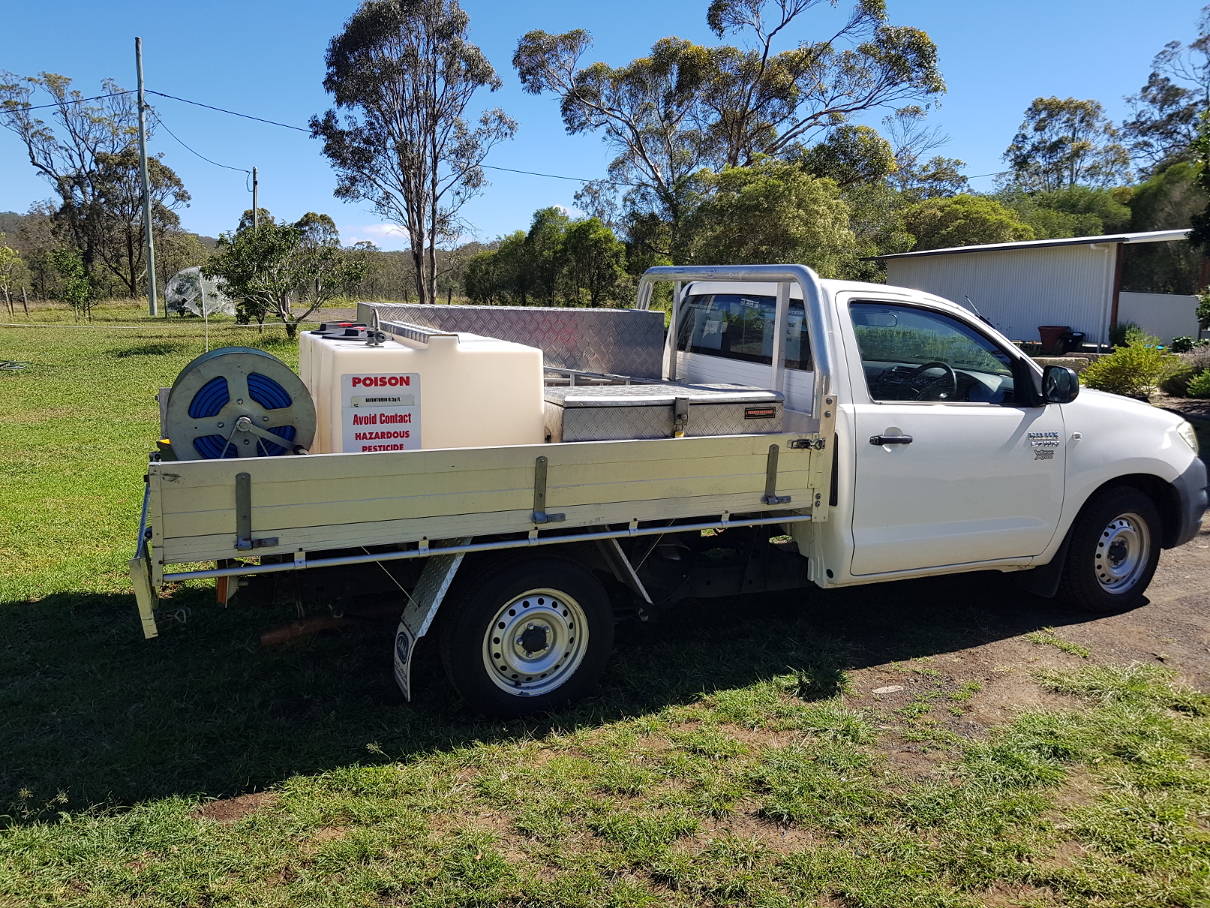 2009 Toyota hilux workmate 4x2
207,400 km
Near new tyres, air con reconditioned in Feb 17
Pest equipment:
100lt & 200lt tank
Honda nova pump
Approx. 50m 12mm hose, 30 gunjet with cone nozzle
All on bunded tray (Austates setup)
2 lockable aluminium tool boxes
Rega handtank, Makita duster, Ladder, 1lt Jug, 5 m Cord, bulb duster, Cordless drill, Rega drilling mat, termite injection wand, 12mm, 8mm slab injector.
$10, 000 ono
Contact Marshall on 0419719934
---
2015 Hilux diesel with gear - Gold Coast Area
Listed 7/12/2017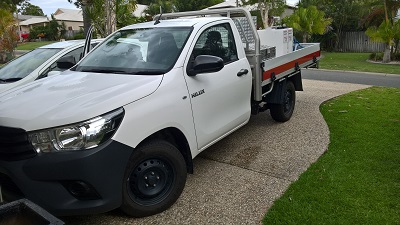 Full service history trough Toyota 53 650 klms has one 1750 mm long tool box and gullwing toolbox and two 40 l tanks a 50m hose and reel and shuflo 108 psi pump on a bunded tray. All gear is 6 months old. Great condition as is the vehicle. Call 0455 628 033. I will throw in the following 4 L of Bifentrin, 1 L Phantom, one full container (500mls) of IGR, 4 KG Permethrin dust, two cans wasp freeze, couple of advion ant gel, and couple cans of chaindite and py spray cans.
$23,500 ONO
Call 0455 628 033
---
Termatrac T3i - Melbourne Area
Listed 5/12/2017
Asking $2,500
Contact This email address is being protected from spambots. You need JavaScript enabled to view it.
---
2015 Mazda BT50 Single Cab 6 speed Diesel - Brisbane Area
Listed 5/10/2017

97,000Kms
16" Mags
3 Toolboxes
Honda Nova Pump
200Lt tank
Hose reel and hose
Water Hose retractable
Underneath storage behind wheel
Drip Tray
Set up at Garrards Brendale.
Sale for $25,000.00 complete.
Call Chris 0438-892-088
---
Pest Equipment for Sale $6000 ONO
Listed 26/09/2017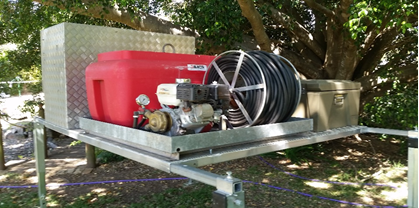 • Equipment is fitted to Tong metal 1760 x 1830 jack off deck.
• Honda engine Nova pump with 200lt tank, hose and trigger gun with adjustable nozzle wand.
• Deluxe slab injection gun with assorted nozzles as new.
• Diamond T 553L tool box fitted with fire extinguisher.

• Poly chemical box.
• Chemical Spill kit.
• STIHL SR 450 Professional Mist blower as new.

• 5Lt Rega SS hand sprayer with adjustable nozzle wand as new.
• 1lt Solo hand sprayer.
• Makita UB1103 240v blower with duster attachment as new.
• Makita 32mm Rotary hammer drill with ass bits as new.
• Bailey dual purpose ladder.
• Chemicals to get you started.
Equipment for sale is located in Brisbane and in very good condition or as new condition ready to work.
Contact Michael 0419785441.
Email; This email address is being protected from spambots. You need JavaScript enabled to view it.
---
FULLY EQUIP PEST CONTROL VEHICLE FOR SALE - Kalgoorlie WA
Listed 30/08/2017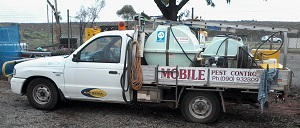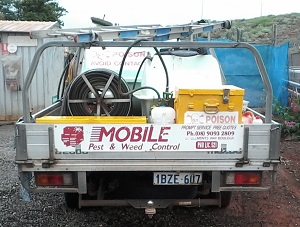 MAZDA BRAVO 2005
143,000kms. 1BZE607
$8,250.00 (incl. GST)
Includes:
• 600L Fibreglass Tank
• 200L Fibreglass Tank
• Honda Motor 6X 160 & Nova Pump
• 50M Chemical Hose (12mm) on Reel
• Extension Ladder
• 5L Rega Hand-spray
• Metal Storage Boxes
• Rojone Ezi Tank Vehicle Tracking System (needs to be reconnected)
• Tow Bar
• Extra Leaf of Springs (rear Tray)
• Roo Bar
• Jack
Other equipment including sundry tools, nozzles, various wands, insecticide duster and drill available for $880.00 (incl. GST). Full list available upon request. Pesticides also available at replacement cost.
Contact: This email address is being protected from spambots. You need JavaScript enabled to view it.
---
For Sale - 2005 Mitsubishi Triton - WA Area
Listed 28/08/2017
1 Tonne Tray back Ute
Dual Fuel
No Oil Leaks Regularly Serviced
180k/ km
Includes:
2 x 200lt Chemical Tanks
2 Large Lockable Toolboxes
2 x Hose reels
1 x 5.5 H/p Davies Pump
Ladder Rack.
$6000 the lot

Contact:
Wayne Carrigg 0407 743 612
---
 FLIR E8 FOR SALE - Brisbane Area
Listed 21/08/2017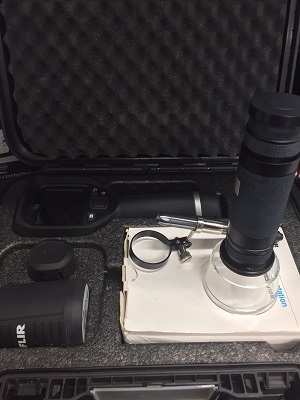 Flir E8 - 8 Months Old (Used Twice) and 45x Microscope with Light
Contact Chris 1300 837 196
---
For Sale Ramset Nail Gun - Port Fairy Area
Listed 25/07/2017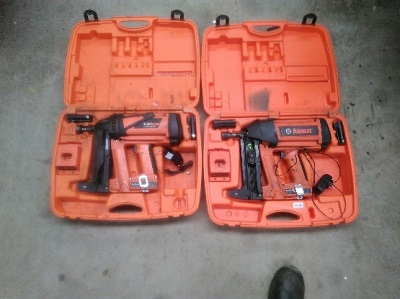 $500/ea
0409172460
---
Spray Unit For Sale - Gold Coast Area
Listed 11/07/2017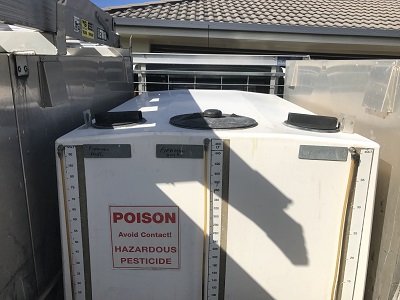 Ex Amalgamted setup consisting of 3 tool boxes, 3 coffin tanks all on an aluminium removable tray. Honda Motor and Hoses not included.
$2,600 ONO
Contact Tim: 0411961905
---
Flir i7 Hardly Used - Gold Coast Area
Listed 27/06/2017
Hardly used, $1,200 ONO
Contact: 0457897979
---
Full Pest Control Rig For Sale - Brisbane Area
Listed 31/05/2017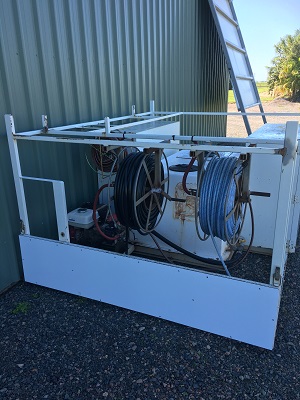 Full pest control rig with custom boxes on both sides with enough room for drills, 20 litre drums and heaps of other gear. 600L fibreglass tank in 400L and 200L split form. 2 hose reels and ladder rack. AR30 pump on Honda motor. Can include some gear as moving interstate. Must sell. $5000 ONO. All reasonable offers considered.
Please contact Doug on 0409 460 340
---
 rega 9L Sprayer for Sale - Brisbane Area
Listed 19/05/2017
rega Indoor Pest Spraying Unit includes 9L steel tank, hose and wand. Price is negotiable.
Phone Richard 0419 647 388
---
 For Sale - Scopes - QLD
Listed 12/04/2017
1 x Bugeye Pest Management Scope (focusing) - $1,500 ONO
1 x Bugeye non-focusing scope - $1,200 ONO
Both in good condition.
Call Peter 0411 690 654
---
 T3i Termatrac For Sale - Brisbane Area
Listed 27/03/2017
T3i Termatrac 2.5yrs/old and used about 5 times. Calibrated June-July, asking $3,000.
Contact John: 0421864630
---
Fogging Machine For Sale - Sunshine Coast Area
Listed 08/03/2017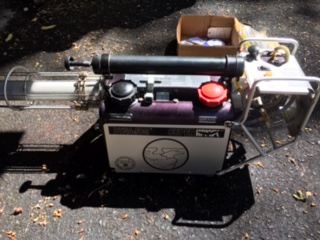 Fogging Machine for Sale, cleaned and stored for nearly a year. Only used in a body corporate situation. Fogger was worth over $2,000 in late 2014. Asking for $975.00. Please contact 07 54863538.
---
Pest Control Van For Sale - Brisbane Area
Listed 16/01/2017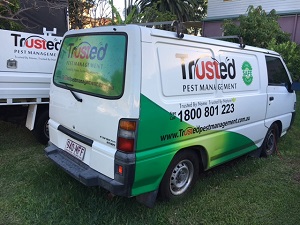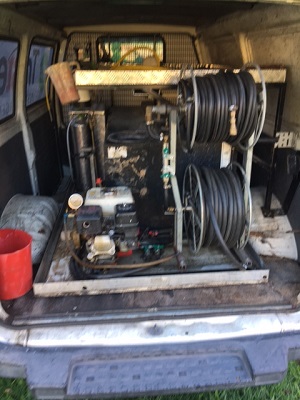 Mitsubishi Express 2006 –
Great Van 210K on the clock
Recently serviced – Van has always being a great. Gas Conversion Also – Certificates provided
400L plus 100L Tank
Honda Pump included
Two hoses reals also – main hose real is 100m
ONO $9,500.00 ONO for the lot
Pls Call Wesley on - 0402 453 163
---
Prestige Plates for Sale
Listed 20/12/2016
QLD Prestige Plates: BUGMAN
Submit offers to Bob on 0403070417
---
Pest Control Equipment For Sale
Listed 1/11/2016
Entire package for $16,000. May sell separately please contact me to discuss.
All equipment brand new and never used.
· 2007 Toyota Hilux V6 tray back 106,000 kms petrol utility 
· Honda Commando brass pump 360 psi 
· 100litre tank plus 50 litre tank 
· Galvanised base tray steel frame 
· Hose reel plus 75 metres chemflex 10mm hose with brass nozzle and extender arm 
· Hand tank S/S Gloria 5litre spray system with brass nozzle and wand 
· Hand tank plastic Gloria 5litre spray system brass nozzle and wand 
· Dusting machine 800w including 4 extensions Puffer
·chemical jugs, gloves, safety glasses, knee pads, overalls, extension lead
·extendable industrial ladder
20m hose, magnets for tanks and many more bits and pieces
· checker plate tool box plus powder coated large upright tool box
 Everything you need to start a pest control business.
 
Contact Aaron on 0434271585
---
Wanted 2nd hand Cryonite set-up to purchase
Listed 1/11/2016
Contact Vaughan Quirke on 07 3881 1693 or 0404 992 941
---
Termatrac T3i - Melbourne Area
Listed 14/09/2016

2 1/2 years old
Hardly used
Perfect condition
Calibrated
All parts, accessories and case included.
$3000 + gst.
0400930589
---